3 Reasons Planned Charlotte HVAC Maintenance Beats Unexpected Repairs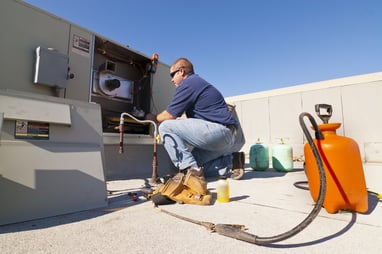 Unexpected HVAC repairs are one of the most frustrating issues a commercial building owner or facility manager can face. Not only are they expensive, but they often include uncomfortable and even dangerous conditions.
With so much effort and money already invested in your commercial property, allowing it to digress due to neglect is unthinkable. Planned HVAC maintenance has long been proven to optimize system performance and extend commercial building systems' lifespans.
Note the following four reasons planned maintenance services should be considered a smart investment in the present and future of your building rather than an expense to be avoided if possible:
1. Planned maintenance costs less
If you own a vehicle, you know that routine maintenance can help prevent damage that would otherwise stem from standard wear and tear over time. In nearly every case, the cost of performing regular maintenance is far less than the cost to repair or replace neglected parts that fail.
Like maintenance performed on your car, planned Charlotte HVAC maintenance services can identify and resolve problems that could otherwise result in catastrophic failure. Scheduled inspections can prevent unexpected repairs and replacements, saving money and avoiding uncomfortable conditions for tenants.
2. Planned maintenance boosts efficiency
The cost of heating and cooling a commercial building is one of the largest budget line items facility managers and owners need to be concerned with. Beyond its impact on the bottom line, the HVAC system's power usage creates environmental concerns as well. For the sake of maintaining a positive public image, and to comply with applicable regulations, focusing on energy efficiency is critical.
Learn more about creating an energy efficiency plan for your building.
Since a comprehensive maintenance program includes ongoing monitoring of the system's energy usage, experienced technicians can fine tune controls and optimize the equipment to boost efficiency. By approaching energy efficiency proactively, they can also identify and resolve hardware and software inefficiencies before they become serious (and expensive) problems.
3. Planned maintenance improves performance
Although energy efficiency is important, your tenants' comfort is the more immediate priority. When employees are comfortable, they're more productive. Quality ventilation and moderate temperatures have also been linked to reduced sick time and lower turnover, which can be costly to a business.
The best commercial HVAC systems balance efficiency and performance. Planned system maintenance proactively achieves that balance while avoiding system outages or downtime, which are both costly and frustrating. If the system is being regularly monitored, technicians can adjust the controls as needed to maintain performance.
When you consider the cost and headache of dealing with a catastrophic system failure, investing in planned HVAC maintenance is the smart business choice. If your commercial HVAC system in Charlotte or across the Carolinas is not currently covered by a routine maintenance service plan, contact us today to discuss your options.