Does Your Commercial Building Need Full Service or Planned Maintenance Services?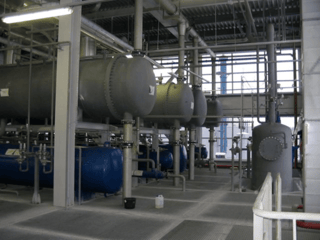 We recognize that the HVAC system that keeps your commercial building comfortable and functional year-round is an expensive, highly valuable investment. When you invest in something of value, it only makes sense to protect what you've purchased by caring for it and doing the best you can to keep it functioning well for as long as possible.
That's the purpose behind our two HVAC maintenance programs for commercial buildings: planned maintenance and full service maintenance.
Do you really need a formal maintenance program at all?
Before we discuss the two types of maintenance programs in greater detail, let's establish why a commercial building owner or facility manager would choose to purchase a maintenance program rather than just handling maintenance on their own.
Consider this: When you buy a vehicle, you could theoretically take care of it by yourself. You may know how to do some basic repair work, or you're just willing to wait to have a professional fix it for you if something breaks. While most drivers and mechanics alike wouldn't recommend that approach, it can work (at least for a time.) But it doesn't offer much in the way of peace of mind, and it also doesn't do much to prevent you from ending up stranded on the side of the road at some point.
When we apply the same thoughts to your commercial building's HVAC system, the decision comes down to a cost/benefit analysis along with an honest appraisal of your own comfort level as an owner or manager. Do you really want to risk causing premature harm to your building's HVAC system by neglecting necessary maintenance or by entrusting maintenance activities to internal staff who may not have the skills or experience to properly carry them out? And are you comfortable with the potential of downtime due to emergency repairs when the need arises?
What you'll get with a professional HVAC maintenance program
As you review the following list of benefits derived from investing in a professional maintenance program, ask yourself: "Is it worth it to me to pay for these benefits for my building?"
A commercial HVAC maintenance program will:
Reduce operating expenses involved with managing repair quotes, approvals, PO processing, invoicing, and accounts payables related to the HVAC system. Resources that can be focused on other core business functions are thus freed up.
Reduce the overall cost of building ownership and operation because trained technicians with the needed skills and experience can take a more proactive approach to maintenance and operations, making repairs more predictable and strategically planned instead of reactive and frequently done in emergency situations.
Reduce energy costs since the HVAC system - one of your building's greatest consumers of energy - will be running as efficiently as possible.
Shift risk to the contractor who is maintaining, repairing, and replacing the system's components, meaning you don't need to worry about paying extra to fix human error caused by your untrained maintenance staff.
Extend the life of the equipment since proper maintenance allows for proactive planning for replacement when individual components are reaching the end of their useful life.
What is planned building maintenance for commercial HVAC?
A planned building maintenance program involves signing a contract with an HVAC contractor to professionally maintain the components that make up your HVAC system, including necessary cleaning, adjusting, replacement, or recommendations for upgrade.
It provides for a set schedule for preventive maintenance over the course of the contract, often on a quarterly or seasonal cadence. While each plan is customized for the equipment and special needs of each client, the general services being provided are fairly uniform. While handling routine maintenance tasks, trained technicians are also on the lookout for warning signs of any additional needs and they'll make recommendations accordingly. This can help to catch oncoming issues before they turn into an emergency repair, and can aid in capital expenditures planning as well.
For brand new systems, planned maintenance services can serve as a cost-effective and valuable option to help maintain the value and reliability of your equipment for years to come. Planned maintenance can also greatly increase the life expectancy of covered HVAC components, which can save a company hundreds of thousands of dollars over the long term.
It's important to note that a planned maintenance program does not include coverage for service calls, emergency repairs, and replacements. These charges will be billed separately as they arise.
What is the full service HVAC maintenance program?
A full service maintenance program includes everything that comes with the planned maintenance contract, along with emergency service calls, repairs, and proactive planning for necessary replacements.
While the initial cost is somewhat higher, many commercial building owners find that the peace of mind that comes with knowing your system is fully covered for both planned maintenance and unexpected service is truly valuable. Both labor and parts are included for all covered services, so your full HVAC expense for each contract period is guaranteed. No surprises.
A full service maintenance plan can save facility managers time and effort that would otherwise go to:
Soliciting quotes for repair work
Approving quotes
Bidding the job out
Processing the invoice
In addition, a full service plan impacts the level of trust between a commercial property's management team and the HVAC services provider: since the provider is taking on a financial risk, the client knows they have a vested interest in keeping the equipment performing optimally and avoiding all unnecessary expenses. These plans - which can range anywhere from 5-15 years in length - generally cement a long-term partnership between contractor and building management.
Admittedly, the full service plan isn't necessarily right for every building. The best way to determine if it's a good option for your building is to allow an energy engineer to complete an operational assessment and cost-benefit analysis. With the results in hand, you'll be in a better position to decide which maintenance program is best for you.
If you'd like to discuss obtaining the right maintenance program for your commercial building's HVAC system in Charlotte, NC contact us to discuss your options and we'll help you decide which program is best for your unique needs.